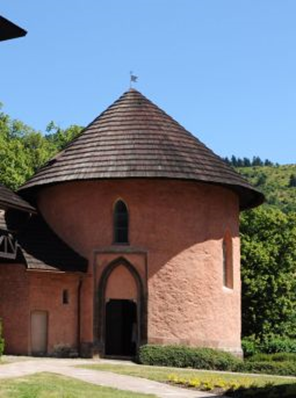 The 14th-century mortuary chapel had two functions. The lower part of the building served as an ossuary while upstairs was a chapel. The chapel was at first dedicated to St Michael and later rededicated to St Andrew. The letters "AP" under the mining hammers on the keystone of the rib vault may point to St Andrew's patronage (Andreas Patronus).
The ossuary is the oldest building in the castle. It is roofed with a 6-part vault with cubic, unprofiled ribs. The ribs meet at a 6-sided keystone. The vaults show clear traces of formwork. As the area around the ossuary was used as a burial ground from the earliest times, the ossuary was used to rehouse bones from the oldest graves.
The chapel on the upper floor has a six-part vault with a circular keystone embossed with mining hammers. The walls of the chapel are decorated with Gothic murals depicting scenes from the life of St Erasmus.
Above the door to the sacristy is a scene from the torture of St Erasmus with his belly torn open and his intestines being pulled out with a winch. On the right is a fragment of a beheading. Above is a scene of Erasmus being tortured in a cauldron and next to it Erasmus before the king. At the very top, there are three scenes from left to right: a raven bringing Erasmus food, Erasmus preaching to a crowd and Erasmus again before the king.
Other decoration includes an unidentified female saint with a palm branch next to the entrance and eight fragmentary consecration crosses from consecration in 1431.

Mortuary Chapel
16. 9. 2010