The History of the Town Kremnica
The spacious vaulted hall on the ground floor of the exhibition Two Faces of Money houses an exhibition on the history of the town, its administration, crafts and daily life, and the story of the museum itself.
While settlement in the Kremnica Valley predates the 14th century, it was the economic reforms of King Charles Robert and the abundant gold deposits in the local mines that prompted Kremnica to be granted the legal status of a town in 1328. The newly established mint began production of the famous Kremnica florin and groschen coins. Like other mining towns, Kremnica experienced periods of economic decline and relative prosperity.
One of the positive periods in its history was the mid-18th century, when the royal court renewed systematic support for the local mining industry. This support was exemplified by a visit from Emperor Francis of Lorraine in 1751 and by the future king Joseph II in 1764. Souvenirs of these visits are displayed in a small side room with mirror vaulting and Baroque furniture.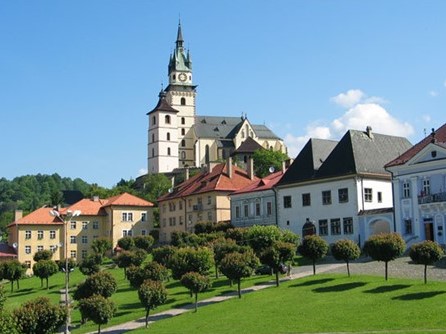 Although mining declined again, Kremnica experienced another period of growth at the turn of the 19th and 20th centuries. It won a court case with the crown to recover ownership of a large area of forests. At the same time, the state was once again investing in mining and the construction of a railway through Kremnica. Crafts and manufacturing were historically the third pillar of the town's economy alongside mining and minting.
This section of the museum presents visitors both the key events in the history of the town, such as royal visits, and background information on the town's administration, its guilds and the daily life of its inhabitants in the past.