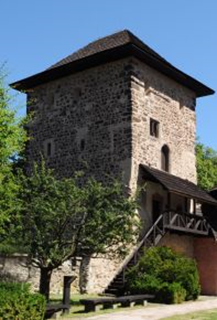 The north tower guarded the entrance to the castle from the north. It dates from the second half of the 14th century and is block-shaped with three floors and a passage on the ground floor. It was originally one floor lower and acquired its top floor after the fire of 1560.
The Renaissance vaulting in the passage and on the first floor was also added at this time. On the outward side of the tower there are loopholes and a machicolation that defended the entrance drawbridge. This was replaced by a fixed stone bridge at the end of the 19th century.
The first two floors of the north tower house an exhibition of archaeological findings from research in the Kremnica town castle and there is an exhibition on the town's defences in the attic.
Exhibition of archaeological findings from research in town castle
17. 9. 2010